Toler Residence, Fallbrook CA
Having just moved to this estate-sized property located in beautiful Fallbrook, CA, the owners were amazed to see their monthly energy costs exceeding $400 and wanted a solution to reduce energy costs while adding to the value and comfort of their new home.
We installed an 8.6kW roof mount solar system over their existing clay tile roof to provide them with over 15,000kWh/Yr. of solar production. We also future proofed the install with a battery ready inverter so that energy storage batteries could be added later to further improve savings and take the worry out of weather related black-outs when SDG&E turns the power off.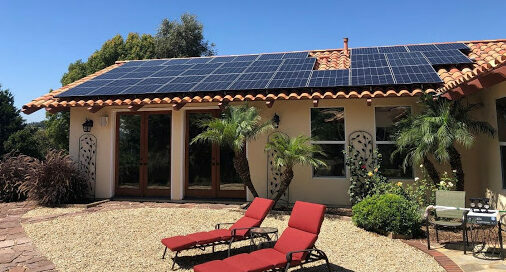 Project Specifications
System Type:
Flush Roof Mount Design
System Size:
7.2kW with Battery Capable Inverter
Average Monthly Costs Before/After:
$474 / $26
Customer Testimonial
"Solar Energy Builders just completed the installation of a large commercial solar system for my business, so they were our first pick to solve the energy needs of our new home, too.
With only several months of energy use to guide us, Solar Energy Builders recommended a system size and paired it with a battery ready inverter so that we can easily add more capabilities in the future. I highly recommend you call them for your home or business energy needs."
Robert Toler
Homeowner